Intervention (12 Step Integration)
At Great Oaks Recovery Center we believe that the 12 steps of
Alcoholics Anonymous
is not a program but rather a foundation and roadmap for the men and women who have entered into a decision to live a chemical-free life. Alcoholics Anonymous (AA) and
Narcotics Anonymous
(NA) are support groups designed to be a refuge for those with the common thread of individuals struggling with addiction seeking hope. Therefore, while a client at Great Oaks Recovery Center all will be introduced to and walked through how support meetings work and how the 12 steps augment a new life. Our staff will help each client through the textbook of Alcoholics Anonymous (The Big Book) and all the steps. We call this aspect of our programming The Intervention.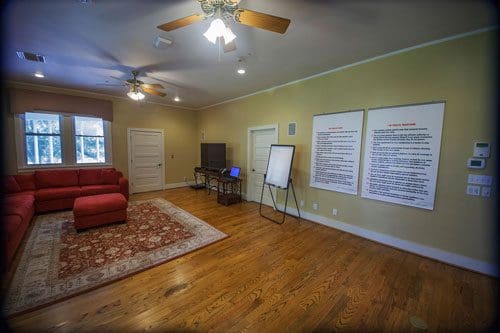 The intervention is based on the behavioral, spiritual, and cognitive principles of 12-step fellowships such as Alcoholics Anonymous (AA) and Narcotics Anonymous (NA). The Intervention focuses on these general goals:
Honesty and acceptance of the need for abstinence from alcohol and other drug use
Surrender, or the willingness to participate actively in 12-step fellowships as a means of sustaining sobriety
A willingness to amends for things we have wrongly done
The counselor assesses the client's alcohol or drug use, educates the client on the difference of sobriety vs. recovery, explains the basic 12-step concepts, and actively supports and facilitates initial involvement and ongoing participation in AA &/or NA. It's not brainwashing – it's HOPE & SUPPORT.
For more information about our intervention and 12 Step integration, call us anytime at (877) 977-3268.